Dali museum Spain
The 10 Best Dalí Museum Tours, Trips & Tickets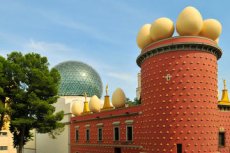 615 Reviews
Address: Gala-Salvador Dalí Square, 5, Figueres, Spain
Hours: Times and days change seasonally; check official site for details
Admission: Adults: €11
The small coastal town of Figueres, just north of Barcelona, is known for only one thing - Salvador Dalí. Though the artisit's fame brought him to more glamorous parts of Spain, near the end of his career, Dalí returned to his hometown to began building his greatest masterpiece.
The Dalí Theatre-Museum is the largest surrealistic object in the world, replacing the town's former Municipal Theatre which was destroyed in the Spanish Civil War. Not only is the museum an artwork in itself, it's also home to many famous paintings by Dalí. The building holds the broadest range of the artist's works, including everything from his earliest pieces to his final paintings. Dalí also chose to include some pieces from his personal collection by other artists such as El Greco and Antoni Pitxot.
Dalí himself is now a part of the Teatre-Museu as well - his crypt and grave are located, quite fittingly, in the center of the museum.
Practical Info
There are a number of tours that leave from Barcelona for a day trip in Figueres. While the Teatre-Museu is the main attraction in this small town, Figueres itself has a bit of coastal charm that is especially enjoyable in the summer months. Dalí fan or not, this town is definitely worth a visit.
Source: www.viator.com
Related posts: