Nerja Spain
Discovering Nearby Places: One Day in Nerja, Spain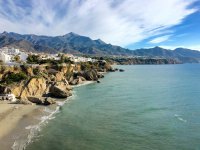 I have a problem when I travel. Just like I can't sit still normally, I also can't just travel to one place. Going to just one place and returning home again seems like a waste to me. What if there's somewhere else close by that's worth seeing? I'd have to travel all the way back again which might never happen. I never noticed until I started blogging about some of my travels and a pattern started to emerge. When I went to Norway for Easter it was Oslo and Bergen, for an Eastern European Christmas it was Prague and Dresden, and then I went for the triple whammy of Liverpool, Manchester and the Lake District all in one.
Summer was definitely on it's way to Almería with the temperature pushing 20 degrees as I sweated my way to the bus station. I managed to confidently walk in the wrong direction for 20 minutes and once I realised I walked in a different wrong direction for another 10. After finally making it to the bus station I waited at the wrong bay and nearly missed my bus. This is not an unusual course of events for me.
Where is Nerja?
Nerja is a beautiful whitewashed town on the Costa del Sol in southern Spain. It's close to Malaga, British expat central, which means it's becoming more and more popular, but I wouldn't use that as a reason to avoid it. You can get to bus to Nerja from Malaga, Granada, or Almería, pretty much anywhere in Andalusia! The bus from Almería to Nerja takes a tiki tour through every small town along the coast so I think I have right to judge, and it's definitely one of the most scenic.
What to do in Nerja
Arriving in Nerja not long before sunset, I dumped my bags at one of the many hostels available in the off season and walked towards the waterfront (or so I thought, it was the opposite direction for awhile…) to watch the sun going down.
If you do one thing in Nerja, go to the Balcón Europa to watch the sunset. The nearby Sierra Nevada glowing shades of pink and orange, and the white houses spreading down to the very edges of the cliffs with stunning blue sea below, saying it's beautiful just doesn't really do it justice.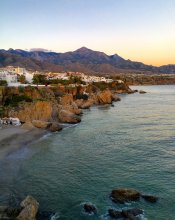 I spoke to the one girl in my dorm room in Nerja, but other than that I was content to be a true solo traveller, on my own. This made my one day trip to Nerja the perfect amount of time to spend there because I happily ate alone and saw the sights without missing the social interaction. In a group or as a couple, this would be a beautiful place to spend a lot longer, on one of those trips I think people call a "holiday". I'm not sure I know how to do that…
Nerja has plenty of beaches to keep you happy, some long and open and some nestled between high cliffs. Spending a day relaxing on one of these would be divine, but the weather was just a little chilly in February and I opted to go to Frigiliana and explore another new place instead. Because I couldn't help myself. Frigiliana is a traditional white Andalusian town nestled in the mountains just 15 minutes from Nerja and I absolutely loved my few hours exploring alone there.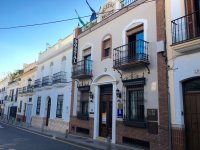 As a day trip from Malaga or a short escape Nerja is perfect. The bus from Malaga to Nerja only takes about 45 minutes, and while it's getting busier and busier and you couldn't exactly call it an undiscovered part of the Costa del Sol, it hasn't lost it's charm. The narrow streets with craft shops, plentiful beaches and al fresco dining make it a beautiful place to stay. And that sunset. If you're taking a day trip to Nerja from Malaga be sure to get a later bus back!
If you do plan to stay in Nerja longer than there are the Nerja Caves nearby, Cueva de Nerja, where concerts can be held in the summer and you can see the unusual cave formations and palelithic paintings. In addition to nearby Frigiliana you could venture further afield to the Aplujarras, even more beautiful villages in the Sierra Nevada, or to Granada.
I first read about Nerja through one of my favourite travel bloggers, the Young Adventuress, who spent a lot of time in Spain on the same Auxiliar de Conversación program that I'm now doing. After seeing her amazing pictures I just had to go to Nerja, and since I was travelling by myself it made sense to go as part of another trip. I might have spent just one day in Nerja as a way to see one more place on another journey, but it holds a special place my heart. How could it not, with these epic views?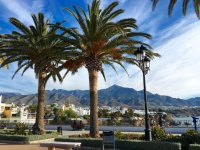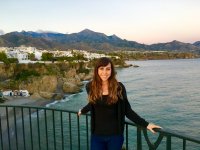 Source: www.migratingmiss.com
Related posts: