Costa del Sol, Spain
Costa del Sol travel information and video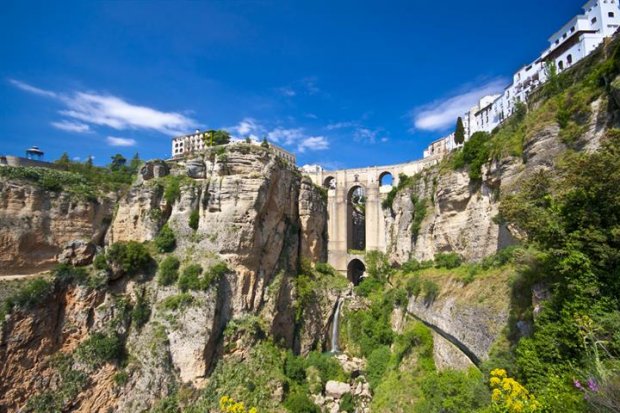 Without doubt the Costa del Sol is one of the most popular tourist destinations in the world. Stretching from Almeria to Tarifa, it caters for all tastes, ages and nationalities; with such a wide range of facilities and attractions, there is something for everyone to enjoy.
Miles of sandy beaches, fantastic all year round warm climate and modern facilities keep tourists flocking back year after year to resorts such as Torremolinos, Benalmadena, Fuengirola, Marbella
and Estepona.
East of Malaga is less popular than west, but no less appealing, from Rincon de la Victoria, Torre del Mar and Velez Malaga, to Nerja; the area combines beautiful coastline, with
white-washed villages and some of the most spectacular inland scenery of the Axarquía.
History & Culture
The area's history dates back to the Phoenicians and has since been inhabited by Greeks, Romans and Moors, all of whom have left their mark on the architecture and culture of the region.
The Costa del Sol is as much steeped in culture as any other region of Andalucia; from Picasso, to
bullfighting, flamenco to the colourful ferias, the region has an immense cultural offering.
Towns and Villages of the Costa del Sol
Nerja is situated at the eastern tip of the Costa del Sol, in the province of Malaga, 50 kilometres from the city of Malaga and within an hour and a half's drive from Granada and the ski resort of the Sierra Nevada.
Malaga is the capital city of the province of Malaga and Andalucía's second largest city with 600, 000 inhabitants. The locals are very friendly and extroverted people, which could have something to do with the great year-round weather, fabulous Mediterranean diet or simply because they live in a beautiful, cultural city by the sea.
The seaside resort of Benalmadena has grown rapidly in recent decades due to tourism and has become one of the Costa del Sol's prime locations.
Fuengirola is situated between Malaga and Marbella, close to the towns of Mijas and Benalmadena, it is one of the most popular tourist towns on the Costa del Sol; it's a great holiday choice for families and children with its fantastic offering of beach, facilities and activities.
Marbella is one of the Mediterranean's most representative tourist venues and a top favourite for holidaymakers. Its impressive and luxurious infrastructure of yacht harbours, golf courses, fine dining, nightlife, great beaches, medical facilities and its closeness to Malaga airport, are key all reasons why so many holidaymakers choose Marbella as their favourite destination.
Estepona is one of the most popular destinations for both tourists and foreign residents alike on the Costa del Sol, yet even today it still manages to retain it's old Andalusian charm. Located at the western end of the Costa del Sol at the foot of the Sierra Bermeja mountains.
Leisure Activities
With millions of people annually visiting the Costa del Sol it's not surprising that there is a
changmo selfmade orange zippyshare
creative director off white
blogging over thyme
cobe selfmade, big ol facts
creative attire made of recycled materials
blogging to win course review
creativity out meaning
selfmade jonathan sanger
creation l dresses
creative of arts
selfmade linkedin
simple self made hairstyles
eco i lite selfmade charge
self made female millionaires
eggplant garlic spread trader joe's selfmade
blogging through facebook
creativity with color westport ma
creative during covid
creation bible verses
why keliy jenner isnt selfmade
blogging godaddy
creative but easy pumpkin carvings
many a selfmade man stopped
creativity facts
blogging websites to make money
selfmade microscope
blogging about mental health
creativity at work examples
selfmade object
selfmade startup nyc
creativity against business
creative zoom backgrounds
in your blog or on your blog
creativity beyond the myth of genius
sk selfmade
creativity is great but not in accounting
creative individual within a larger firm
blogging past participle
blog giveaways
creative like a simile
creation world
selfmade man
create youtube video
creation in japanese
creation before jinn
creativity for kids rock painting
self made esports
creativity unleashing the forces within
creative vs survival minecraft
pound cake made with self rising flour
creation questions
blogging pro
eyebrow color selfmade phoenix arizona
creation of opposite
creativity psychology definition
creative force
creative against covid 19 ireland
blog en espanol
selfmade kash publix
selfmade calender 2017
creative under stairs ideas
blog off meaning
kylie jenner selfmade
creative after school program names
selfmade boss
selfmade orangs lyrics
selfmade league
selfmade object
blogging courses for beginners
creative for kids
blogging in education
creative with gwynn
Source: www.spain-holiday.com
Related posts: