Santander, Spain
13 Beaches And Tapas? Great Combo In Santander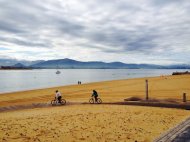 Returning after 20 years to her old party grounds, Christy Esmahan, our guest expert, finds not much has changed in Santander. Especially the cider.
By Christy Esmahan
"You're in for a real treat, " I promised my husband as we approached Santander. It was one of the first cities on the northern coast of that I had visited back in the mid 1980s when I was a grad student living in . My roommate, Blanca, had invited me to spend the Christmas holidays with her family, and they had generously taken me to see all the touristy sights. Now, it was my turn to be hostess in this fun city. We drove in from Bilbao, where our plane had landed, and headed west on the sleek, modern highway.
"It's nothing but bridges and tunnels, " my husband commented as signs once again indicated that we should turn on our headlights.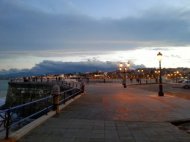 "You should be glad, " I laughed, "this trip used to take almost three hours by the winding coastal road, now it's only 45 minutes."
Santander did not disappoint. First we toured La Magdalena, a modern palace (only 100 years old) where the Spanish royalty used to come to spend their summers. It was acquired by the Menendez Pelayo International University in the 1930s and now classes are held in this gorgeous historical monument. Many American Universities have exchange programs with Santander, and thus many lucky undergraduates get a chance to study in this palace.
Afterwards, we walked through the El Sardinero, a neighborhood famous for its big, beautiful mansions, and where the area's affluent still live in luxurious apartments. Then we caught a bus and headed toward the Casco Viejo, the old downtown area, which can be found in every Spanish city. This one is particularly striking as it was re-built after a fire destroyed much of it in 1941. There are wide boulevards and tons of interesting shops to visit.
We stopped in a sidrería to have a glass of hard apple cider; it's one of my very favorite drinks and the Spanish make it better than anyone else in the world. A strong musty odor greeted us as we entered the establishment. The floor was cement, sloped downward toward a drain in the center. Everything was paneled in dark wood, and my husband went to check out the small suit of armor which stood in one corner, a vestige from a distant past.
Source: www.thespainscoop.com
Related posts: