Spain Independence Day
Denying Catalonia a Referendum Would Make Spain as Bad as the Populists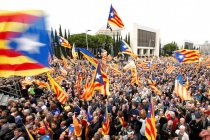 People hold Catalan separatist flags, known as "Esteladas", during a gathering to protest against legal challenges made by Spain's government against pro-independence Catalan politicians, in Barcelona, Spain, November 13, 2016. Albert Gea/Reuters
Catalonia, the small, ancient nation of seven million people in the northeastern corner of Spain, is living with an unheard of situation in the heart of democratic Europe. From February 6 to 10 our former president, Artur Mas, together with two ministers from his former government, went on trial for for having organized an informal, non legally binding, consultation on Catalonia's independence in November 2014. That day is remembered by Catalans as a peaceful, civic and democratic moment when they were able to express their opinion on whether Catalonia should be an independent nation or not. That day, 2.3 million Catalans took part and 89 percent voted for an independent Catalonia.
According to the Spanish government in Madrid, led by Mariano Rajoy´s Popular Party, president Mas and his two ministers committed a crime because there was an order from Spain's Constitutional Court to stop the consultation process, which was carried out by 40, 000 citizen volunteers. Next Monday, Francesc Homs, a former spokesman of the Catalan government who is currently a member of parliament in Madrid, will also go on trial charged with the same crime as the former president and ministers. As if that weren't enough, the president of the Catalan Parliament, Carme Forcadell, also found out on Thursday that she will go on trial for having allowed a floor debate on committee findings regarding the possibility of Catalonia becoming a free and independent country.
All these trials shock the democratic soul of any citizen, while being enormous anomalies in a democratic Europe. More than 80 percent of citizens say they want to vote on the issue, according to various polls, and a majority of the MPs in Catalonia's parliament agree. A large majority of Catalonia´s 948 mayors also want a referendum to find out whether the Catalans want their own state or not (a majority of municipalities are governed by parties who support this position). In fact, a good number of citizens in the rest of Spain also support this vote; 45 percent, according to a La Sexta poll. Can wanting to vote be a crime? We don't think so.
Given the call for a vote, the Catalans hope that the Spanish government would behave with a democratic spirit for dialogue just like the British and Canadian governments did when they faced calls for a vote from independence movements in Scotland and Quebec. In those two cases, the governments in Ottawa and London responded to the political situation they faced, and they won their referendums by making appealing offers for loyalty that won the support of the majority of the voters in Quebec and Scotland. People must remain a part of a state by their own volition because they are convinced of its benefits and not because remaining is imposed on them or out of fear.
Spain, unfortunately, has responded to a cry from the majority of Catalans by refusing all dialogue, and launching a campaign of legal persecution of officials elected by the Catalan people. And not just that. We have also seen a dirty war where the Spanish government has used their police to spread rumors about democratically elected Catalan representatives. It is very sad. Many of us thought that more than 40 years after the death of the dictator Francisco Franco that the Spanish state had become a fully normalized and consolidated democracy, within the framework of the European Union (EU), a state that respected and valued its national minorities. However, we have seen that some of the old attitudes of the former authoritarian regime that we thought were forgotten sadly still endure.
We are convinced, in spite of all these impediments, that democracy will find a way in Catalonia and that our citizens will be able to do something so simple as placing a ballot paper in a ballot box to decide whether Catalonia should be independent or not. We are planning to have that vote before the September 15, 2017. Could it be possible that the Catalans have fewer rights than the Scots, or the Quebecois, or the Lithuanians, or the Slovenians, or the Czechs, or the Montenegrins?
We are convinced that we have the same rights as everybody else and we are sure that a majority of Catalans want to be asked about their future. We hope that the Spanish government will act maturely and responsibly and face the Catalan situation like any democratic country would. To do otherwise goes against the most basic democratic rights of any minority and we believe it would place Spain on the list of populist and authoritarian governments who seem to be taking root in certain corners of Europe.
Source: www.newsweek.com
Related posts: