Beaches in Spain
Best Beaches in Spain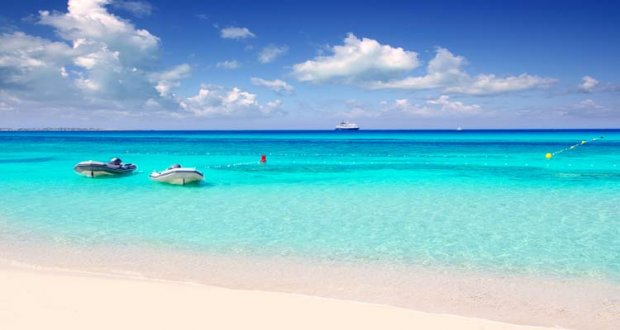 Start your journey with a few days in mainland Spain exploring Madrid and Barcelona, then venture to the country's southern coast or Mediterranean isles for a few final days of relaxation surrounded by expanses of white sand and turquoise waters. Then call your boss and resign, because after seeing these spots, there's no way you'll want to come home.
Playa de Aiguablava, Catalonia
Getty Images
Soft sand and clear, calm waters make Aiguablava the finest bay in Costa Brava. Surrounded by rocky outcrops and lush forest, the beach itself feels isolated, but easy access to amenities (restaurants, showers, toilets) make it a great pick for families looking to get away from it all without roughing it. If the beach gets too crowded, venture a short way up the coast to take a dip in La Piscina Natural Es Cau, an ocean-fed swimming pool carved into the rock.
Playa Cala Salada, Ibiza
Getty Images
This quiet cove is perhaps the most picturesque in Ibiza, unspoiled by the crowds and commerce that proliferate elsewhere on the island. It's classic Mediterranean through-and-through, with cliffs and pine forest jutting up to the oceanfront. Hike down from the carpark and cool off before setting up camp with a quick jump from the cliffs into the pool. The water is a deep blue and relatively warm year-round. Once you've worked up an appetite, head to the rustic oceanfront café for the freshest paella you'll ever eat.
Cala Mondragó, Mallorca
Hauke Dressler/Look-foto
Situated in the heard of Mondragó Natural Park on southeastern Mallorca, this white sand beach is the place to go if you're seeking an escape. The surrounding area is protected land, and it's a prime spot for glimpsing wildlife. Birdwatchers should come armed with binoculars and keep an eye out for crossbills and Peregrine falcons. Rent a kayak to explore the coast, or bring a mask and snorkel—the clear waters are teeming with fish. And don't miss the beginner-friendly hiking trail along the coast.
Cala Macarella, Menorca
Getty Images
This spot considered one of the most beautiful places on the whole of Menorca. The sand is soft and pinkish-white, and the sea here is so clear that your eye is tricked into thinking anchored boats are hovering. The warm season here stretches out far past the end of summer, so come here year-round to soak up the sun and enjoy a picnic on the sand. Be sure to take the trail to neighboring beach Macarelletta—the oceanfront overlook along the way is enough reason to go.
Playa de Migjorn, Formentera
Donatella Marmaggi
The sand on this expansive bay stretches on for a few miles, making it a must-see for every type of beachgoer. Whether you're hoping for an action-packed day of watersports, a shaded lounger and a party-ready vibe, or an isolated spot for snoozing in the sun, there's a place for you on Playa de Migjorn. Our perfect day? Start with a morning paddleboard excursion, break for a midday cocktail at one of the many beachfront bars, then take a leisurely stroll toward the bay's eastern edge for the best views of the sun setting over the water.
Source: www.travelandleisure.com
Related posts: