Christmas in Spain
Celebrating Christmas in Spain? Here's What You Need to Know
Moving to Spain as an auxiliare, an au pair or even just for work, often means you'll most likely have to get used to several Spanish traditions, including Christmas. Here's what you need to know about Christmas in Spain – it's celebrated a little bit differently than what you know.
How people celebrate Christmas in Spain?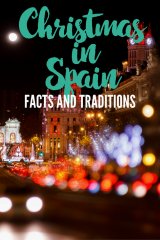 Interesting read:
First of all – Spaniards don't have a Santa Claus. Apparently, the climate change just doesn't suit him and Rudolph doesn't like to fly so close to the sun. But they DO have Three Kings, also known as los Reyes Magos.
You might find that the usual Christmas day in Spain is just like any other – if you're in Valencia or any of the main cities, you can even go to several main attractions and many stores will remain open (I visited Valencia's zoo on Christmas day and it was wonderful).
Some families, especially expats, do still celebrate Santa Claus, also known as Papa Noel, however, things might be slightly different in a traditional family setting.
Huh? So when do the Spanish celebrate Christmas?
The date you need to remember is January 6th, also known as el Dia de Reyes. The Three Kings bring presents for children and children at heart. All major cities, including Barcelona and Madrid, hold a Three Kings Parade which usually consists of themed floats traveling on a route across the city and handing out candy to the children.
An important event that also takes place around Christmas time is… the lottery. Lotería de Navidad has been big in Spain since 1812 and it's known to be the biggest lottery worldwide. So get in that line, get your hopes up and who knows, your Christmas might just turn out to be extra special.
C-c-check it out:
Christmas in Spain: food traditions
Christmas time is the perfect time for the Spanish to bring out the best of the best – we're talking food and drinks that'll keep you full way after January 6th. Here's what you'll eat if you ever visit Spain during Christmas:
It's the almond Christmas candy and its history dates back to the Moorish origin. All this simple treat contains are almonds, egg whites and honey, but don't underestimate it – it's delicious, addictive, and you'll be coming back for more.
Polvorones and mantecados
Almonds, sugar, lard and cinnamon – say no more, I'm totally sold on this Christmas staple shortbread. The production of these sweets started in Estepa, a town close to Seville. But it wasn't long before the entire country caught on that they're creating something so yummy and so addictive, it just had to be mass produced elsewhere.
Ah, the battle of Roscon de Reyes. It's a huge thing during Christmas in Spain and people get very passionate about this recipe – a lot of shops claim they have the best of the best Roscon de Reyes bread, but the truth is, this is a very subjective statement. However, it is something you should try at least once when in Spain.
While grapes might not be necessarily a Christmas tradition, Spaniards do this weird thing on New Years that I just can't get on board with – they eat 12 grapes at midnight, one with each bell ring. In a way, it's a superstition – it simply means you'll have lucky 12 months ahead. That is, unless you accidentally choke on one.
Source: www.spotahome.com
Related posts: