Colors of Spain
Here are five tips to help you nail the dress code in Spain: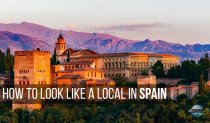 Planning on traveling to Spain? Make sure you keep it classy. Fashion in Spain is a big deal and there are a vast array of clothing styles and trends to keep up with. However, generally speaking, everyday typical clothing in Spain is conservative. Spaniards have deep roots in the Roman Catholic Church, after all. After the Spanish converted their entire country to Catholicism, they continued to spread the religion through other Spanish-discovered lands. Spain has thousands of gorgeous, ornate churches to show they mean business when it comes to religion. For this reason, you shouldn't wear anything in Spain that you wouldn't wear in a church.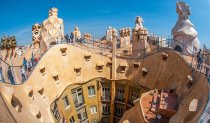 You want to make a good impression in Spain, whether you are interning, volunteering, teaching, or studying abroad, and also impress your new Spanish friends, which is why it is essential you understand how people dress in Spain BEFORE you pack your bags.
1. Say no to shorts.
In Spain, wearing shorts is a dead giveaway that you're a tourist. Locals always wear pants, or skirts, and dresses that go past their knees. According to the dress code in Spain, it is common for both men and women to wear nice trousers or jeans on a daily basis, despite the heat. Shorts are acceptable at the beach, but if you are wandering around the city, it is better to stick to long pants.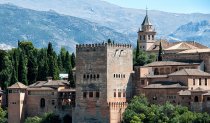 Spain can get hot though, so invest in some lightweight cotton pants, in place of heavy denim jeans.
Before you begin your meaningful travel program in Spain, keep in mind that dryers aren't common. In many cases your clothes will need to air dry, so it might be wise to invest in a nice pair of pants that aren't made of something as heavy as denim. Typical clothing in Spain is lightweight, often made from cotton or other airy fabrics, so ditching the denim will also help you blend in easier.
Fashion in Spain is as fancy as the architecture
2. Dress conservatively.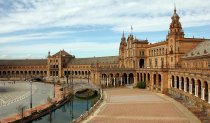 You may have guessed by now that Spain is a somewhat conservative country. Modesty is valued highly, so respecting this when you approach the dress code in Spain is a good idea. This doesn't mean that Spaniards aren't stylish; they have a very good fashion sense and take great care to dress well. It just means that clothing such as tank tops or miniskirts are frowned upon and generally saved for weekends out late with friends. Casual tee shirts and sweatshirts should also be avoided. Remember to keep it classy, people.
Insider Tip: Like many other European countries, Spain has an eye for fashion. Emphasis is placed on designer labels and quality clothing that fits well.
Traveling in Spain is a great chance to learn more about Spanish culture - and fashion
Source: www.goabroad.com
Related posts: