Santillana Spain
Santillana del Mar: NOT Spain's Prettiest Village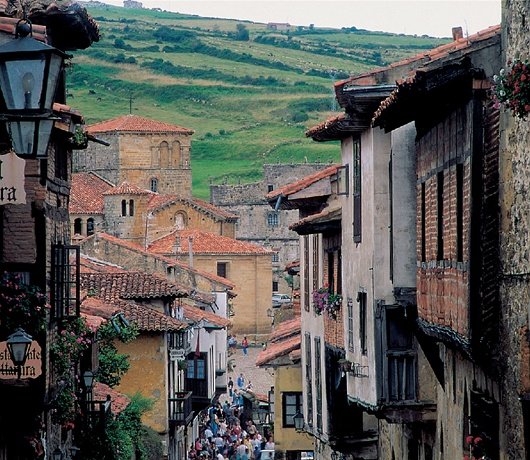 After killing an hour or so in the Cantabrian town of Comillas by seeing a house designed by Gaudí, we hopped back in the car to continue our Roommate Road Trip and drove a couple of minutes further east to Santillana del Mar, just inland from Spain's northern coast. This village has a reputation of being el pueblo más bonito de España—"Spain's the prettiest village"—so our hopes were high as we cruised around tree-lined country roads, passing among fields that smelled of manure and a few shuttered-up hamlets.
Unfortunately, Santillana didn't live up to its fame.
Before I continue, it's basically required of me to repeat that stupid joke that everyone tells whenever this town's name is mentioned in passing. Santillana is known as la villa de las tres mentiras ("the town of the three lies") because
it isn't holy, flat, or on the sea.
Ha ha ha, so funny, right? Wrong. I've never really got the joke because not only does the village claim to hold the remains of una santa, St. Juliana of Nicomedia, it's actually fairly flat, and you can get to the beach in a little over an hour—on foot.
The name actually comes from said saint, who in Spanish is called Santa Juliana; her name evolved into Illana over the centuries and the del Mar was added because the village is, indeed, close to the sea.
Anyways, although I was underwhelmed by Santillana del Mar, that's not to say it wasn't pretty at all. Half-timbered houses stood side-by-side with noble mansions built out of warm, local stone, and the two streets the town had to speak of were paved in a pleasing cobblestone pattern. It's clear this village lives on tourism, though; when we visited, nearly every other house had their doors opening into a restaurant offering an overpriced menú del día or a tiny shop selling traditional Cantabrian crafts or sweets.
There's really only one major sight to see in Santillana: the
Colegiata de Santa Juliana,
a collegiate church dedicated to the relics of the aforementioned saint. While this fourth-century martyr from Asia Minor was probably buried somewhere outside of Naples, Spanish legend states that in the 800s St. Juliana's body was moved here, to the Kingdom of Asturias on the frontiers of Christendom.
Whatever the case may be, a beautiful Romanesque-style church was constructed here in the 1100s, complete with a gorgeous set of cloisters. Like the Church of San Pedro El Viejo out in Huesca, the column capitals that grace the courtyard are intricately carved and portray scenes from the life of Christ, mythical medieval beasts, or pretty leaves and flowers.
In the end, though, I couldn't bring myself to agree with Santillana's moniker, as I had already visited Spain's most beautiful village a few months earlier: Albarracín out in lonely Teruel province. Santillana wasn't ugly by any means, but for me it just didn't really stand out that much, especially when compared with the dozens upon dozens of other charming towns this country has to offer. The village also seemed to have sold itself out to tourism, with gift shops, restaurants serving subpar food, and hotels around every corner. After lunch, the roommates and I did get to experience the "del Mar" part of the town's name. The municipality of Santillana del Mar is, in fact, home to a beach, the . The beach itself was rather lackluster but the surrounding scenery was fantastic. At the top of a hill there was a ruined watchtower, and after hiking up there I caught sight of a much better beach that was within walking distance, the Playa de Tagle, where we ended up spending the better part of an afternoon enjoying the last sunny day of the season.
Source: www.trevorhuxham.com
Related posts: