Currency of Spain
Spain Currency Information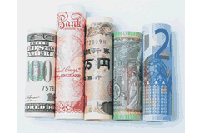 Sample prices
It is always a good idea to budget for a trip so you don't run out of money. Here are a few sample prices so you have plenty of dosh for your Spanish vacation:
Spanish Cordobes hat = €5
Sangria (drink made of red wine, sugar, fruits and ice) = €10
Flamenco show plus drink = €25
Spanish soccer jerseys eg Ronaldinho = from €65
Average room prices = you'll pay around €15 for a hostel bed, €50 for something mid-range, and €150 and upward if you're going all out.
Average meal prices = anywhere from €3 for a beer and tapa, to €15 at a mid-range restaurant, and €35 and upwards for an expensive restaurant.
Tipping
Every establishment in Spain will include a service charge in the price of the meal or drink. However it's still common to tip at bars, restaurants, hotels, and after taking a taxi; usually a tip is 5-10% of the price.
Banking
Generally in Spain banking hours are Monday to Friday from 8am to 2pm. There are some variations to this, some opening on Saturdays until 1pm. All major credit cards are accepted in Spain and traveler's checks are accepted in many places.
*The Small Print
We've tried to make this destination guide as accurate as possible but please double check the essentials like visas, health and safety, airport information etc with the relevant authorities before you travel. STA Travel takes no responsibility for loss, injury or inconvenience caused as a result of this guide. All prices listed are in the currency of the destination, unless otherwise stated.
Source: www.statravel.com
Please visit this site -
An Introduction To Laser Engraving
.
Related posts: