Marbella, Spain
Our Month in Marbella, Spain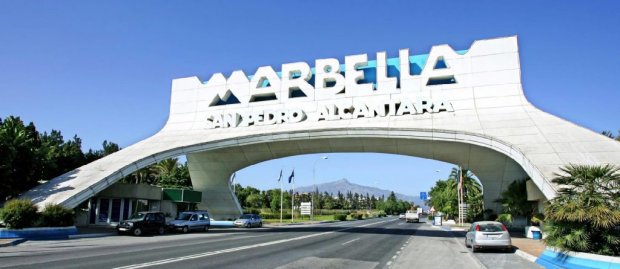 Or, how my kids and I found a reasonably priced way to experience the European high life
For more than three decades, millions of European tourists have stepped out of the Málaga Airport into the guaranteed summer sunshine of Spain's Costa del Sol. For first-timers, what follows can be jolting— the drive west along a highway sandwiched between the Sierra Blanca and the Mediterranean reveals a stunning lack of charm. This coast was once a land of fishing villages with whitewashed cottages. Now all you see is cookie-cutter sprawl: apartment houses, shopping complexes, mini versions of American supermarkets, and pub-style restaurants geared to British tourists.
But then, 30 miles farther, the landscape changes. The architecture improves. And the sense that you're driving through an exotic version of the Florida coast fades. You've entered Marbella (pronounced "mar-bay-ya"), the longtime resort of choice for European royalty, tanning movie stars, and permanent fixtures on the international society circuit.
Marbella may not seem the most obvious spot for an affordable Mediterranean summer trip. But don't let its reputation scare you. If organized properly, a visit here can even be a bit of a bargain.
I first got to know the town a couple of years ago when I splurged on two weeks with my two children at the Hotel Los Monteros, a first-rate resort with a private beach club. The experience was such a success that Georgia, 15, and Nicholas, 11, who usually demand a change of scene for their vacations, begged to return— only this time they wanted to stay for a month. And that's how I discovered that a freelance writer with two kids (plus two of my daughter's school friends for half the time) can have a financially palatable vacation at an upscale European resort.
For a month, our total expenses were about $6, 000. That was exclusive of airfare, but it included car rental, waterfront activities, tennis, dining out as often as twice a day— and a three-bedroom apartment. I never felt I was economizing.
"Tastefully furnished" was how the $3, 100-a-month apartment was described to me when I took it, sight unseen, during a transatlantic phone call. But it offered much more than well-chosen chairs. First, the location was prime: in a group of four-story Moorish-style buildings, with underground parking and their own swimming pool, just five minutes from the center of Marbella. Then there was the view. The terrace, with a wicker sofa and a table for dining, overlooked the Rìo Real golf course and Marbella's glorious hills. And, as promised, the apartment itself was eminently livable, with a large living/dining room, marble floors, two bathrooms, and a well-equipped kitchen.
What thrilled us most of all, though, was the town. By day we had access to water sports, golf, and tennis, at reasonable prices; by night, we ate superb food at shockingly good value. We could have taken jaunts to nearby hillside towns or more ambitious journeys to Seville, Granada, or Morocco. But we felt far too content to wander.
A sleepy Andalusian town rejiggered into an easily walkable urban development, Marbella has managed to retain its essential appeal. Visually, it's a gentle segue from the Casco Antiguo, or Old Quarter, with its narrow cobblestone streets and wrought-iron balconies, to the new section, where, at night, there's live music in the parks and gardens. The restored seafront in the town center— the Paseo Marìtimo— has been turned into an appealingly honky-tonk boardwalk with outdoor restaurants, ice cream shops, video-game parlors, and stalls selling Spanish pottery, Indian jewelry, and cotton pareos.
All of these delights obscure the fact that Marbella's beaches are not particularly beautiful. The sand is drab brown, and of the kind that really sticks to your skin. And the water, depending on which way the winds are blowing, can be less than crystal clear— though it's no dirtier than its counterpart on the Côte d'Azur.
What redeems these beaches is a group of shoreline restaurants called chiringuitos. They're much more than snack bars. Most rent beach chairs, mattresses, umbrellas, and paddleboats for very little. And these spots serve local specialties of the most special sort: grilled sardines, fried boquerones (fresh anchovies), tortillas españolas (Spanish omelettes). At one of my family's favorites— Los Sardinales, on the Playa de los Alicates— two adults and two children had a lunch of grilled langoustines, spaghetti alla bolognese, mineral water, soft drinks, and a large pitcher of sangria for $50. On hot nights we'd return for a chiringuito dinner by the sea.
August anywhere on the Mediterranean means wall-to-wall people. In Marbella, traffic and the mobs in the restaurants and shops are a nightmare— but only at certain hours. You can beat the crowds by shopping for groceries early in the morning (that's 10 a.m. on Marbella time) or when the shops have just reopened after siesta (around 5 p.m.). And if you don't switch your schedule to Spanish hours— which call for dinner to begin no earlier than 10:30— you can get into almost any restaurant without a wait.
Source: www.travelandleisure.com
https://cincabinets.com
cabinet makers cincinnati. Makerspace cincinnati.
Related posts: