El Camino Spain
El Camino Santiago or the Way of St James | Spain Trails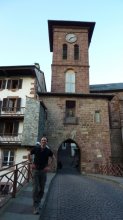 A trail has finally broken me. I've met a trail that I just can't hack. It's El Camino Santiago.
I'm pretty tough mentally. I smile during mountaineering moments when most people cry. I've hiked nearly 15, 000 miles (24, 000 km) in the last decade, having a blast under nearly all conditions. I've never even though about quitting a trail. Until now.
Walking from Pamplona to Burgos is murderously dull, yet most say it is much more scenic than Burgos to Leon. That's when I considered quiting.
It also made me admire all the pilgrims who are not only able to walk the whole trail, but to also do it with a smile on their faces! I am clearly not tough enough!
But I won't quit. Fortunately, I have a solution that will keep me from giving up completely.
Where is El Camino Santiago?
The name El Camino Santiago is deceptive. Its most popular translated names (the Way of St. James or Le Chemin St. Jacques) are also misleading. These names imply that there is one trail, one way, one path to Santiago de Compostela, Spain. Nothing could be further from the truth.
In fact, ANY way to Santiago de Compostela is a Camino Santiago. All roads may lead to Rome, but all caminos lead to Santiago de Compostela.
If you zoom into the map of Europe on the right, you may notice that one trail is a bit thicker than the rest. This is the famous Camino Frances, or the French Trail. It is the most popular way to Santiago de Compostela. However, the key takeaway from the map is that there are many caminos.
In short, El Camino Santiago is the ultimate trail.
Creating the most exciting Camino Santiago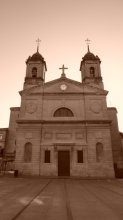 Although I'm sure that many of these trails have their appeal, judging from the topography they cover, they look somewhat flat. This is understandable because most pilgrims who are trekking across Europe want to take the path of least resistance. Hundreds of years ago, someone who purposefully walked across a mountain range instead of the perfectly flat option nearby would be branded a fool!
However, hiking through flat terrain is boring (for me). Walking along the ocean (or a really cool river) is nice, but walking through 20+ kilometers of farmland bores me. I've done enough of it to know.
Therefore, I will hike my own hike, and make my own unique Camino Santiago.
Starting point
Porto Somport
St. Jean Pied-de-Port, France
Ronsevalles, Spain
Hendaye, France (near San Sebastian, Spain).
I officially started in St. Jean Pied-de-Port, but I ended up on the Atlantic Ocean because that's where the Pyrenees end.
From there, I had two options: take the coastal route (El Camino del Norte) or go to Pamplona and join El Camino Frances. I chose to go to Pamplona.
Half Camino Frances, half the mountain range around Asturias
From Pamplona, the plan is simple:
Stick to El Camino Frances from Pamplona to Burgos (hilly terrain).
Continue traversing the mountain range west into the rest of Asturias, which has plenty of majestic, craggy mountains.
Rejoin El Camino Frances somewhere between Ponferrada and Lugo.
Party with the pilgrims the rest of the way to Santiago de Compostela.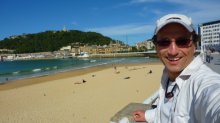 Below is an interactive map that lets you zoom into and move around so you can follow. Notice the pancake flat terrain between Burgos and Leon! That's where El Camino Frances goes (yawn). The "A" marker indicates the location of Los Picos de Europa (which got their name because they were the first peaks that European explorers saw when they returned from their New World adventures 500 years ago). Asturias is the mountainous region west of Los Picos de Europa.
In sum, I'll do about 50% of El Camino Santiago on the popular Camino Frances (the beginning and end) and 50% on some wacky mountainous route of my own invention.
My alternate route will be in the high mountains between El Camino Frances and El Camino del Norte (the coastal route). It should be more scenic than the traditional routes, which favor flatter terrains. For me, alpine mountains are more scenic than rolling hills or farmland. They often yield crazier adventure stories too.
What's nice is that if it's too cold and snowy in Asturias, I can easily drop down to El Camino Frances. In October, the popular trails are chilly, but snow free. If you're curious to find out where I am, through Twitter I update my Facebook status.
I've softened up
I'm becoming a wimp. I put up with much colder temperatures with far fewer clothing that I have now. I also used to hike long distances in flat, featureless deserts and farm country without much problem. Although I never really loved it, it was fine. In fact, I was thrilled in the Big Basin in Wyoming because it was everything Colorado was not: flat, dry, and snow-free. Still, most people who want adventure travel avoid nonstop flatness.
El Camino is certainly doable. In fact, probably the reason I am not enjoying it that much is that it is just too doable! I crave a challenge, a bushwack, a snow storm, a steep cliff, a lack of water, or a bear charge. Alas, the only real challenge El Camino offers is a mental one. Unfortunately, I'm failing that challenge. At least partly. I'm not giving up. Just creating my own camino to Santiago.
Finally, I dislike it when hikers whine and complain. I always think, "If it sucks so much, get the hell off the trail! If not, shut up!"
Now I'm a hypocrite because I'm whinning like a baby. However, I am doing something about it. I am getting off the Camino Frances and hiking my own hike! I expect I will love Asturias and the last 200 km of El Camino Frances. [Post hike report: I did love Asturias!]
Hiking a Christian pilgrimage listening to Koran and the Bhagavad Gita
To ward off the boredom, I have been listening to the Koran and the Bhagavad Gita and over and over again. (I've already read the Bible from Genesis to Revelation.)
It's ironic I'm listening to the sacred text of Islam and Hinduism, since El Camino Santiago is a Christian pilgrimage. I expect to finish the pilgrimage in 25 days, meaning that I will end on October 31 - Halloween! I wonder if I should enter the Church of Composetla wearing a Muslim or a Hindu costume. Probably not a good idea.
Although I officially started El Camino in St. Jean-Pied-de-Port, in some ways, you can say that I started it where this photo was taken: San Sebastian, Spain. That's next to Hendaye, France, where finished my trip through the Pyrenees. Anyway, San Sebastian is pretty.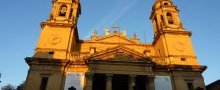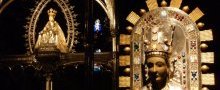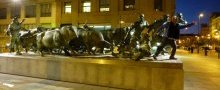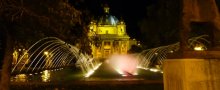 Source: francistapon.com
Related posts: