Galicia, Spain
Galicia, Spain: a beginner's guide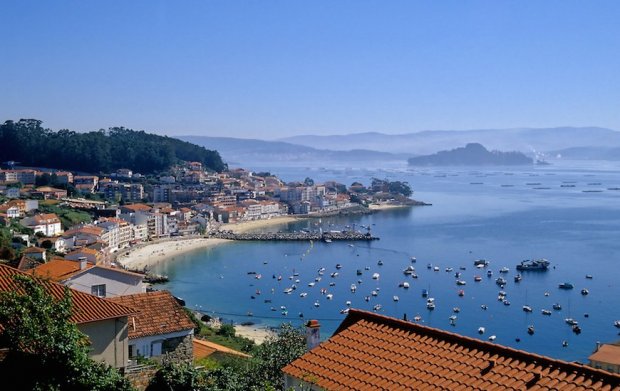 Beaches are Galicia's main selling point in summer, but the region's towns and cities and the fantastic seafood are also big draws. Here are the Mawer family's highlights.
Beaches
Playa de la Lanzada
Towards the end of the peninsula between the Pontevedra and Arousa rías, this spectacular, 1.5-mile arc of dune-backed beach faces the Atlantic, so can be great for body boarding. On a hot summer's day, literally thousands of Spaniards take a gentle pre- or post-prandial paseo along the water's edge – joining in is rather enjoyable.
Area Grande and O Carreiro
These picturesque strips of golden sand dotted with grey granite boulders and rock pools are on the peninsula north of Lanzada, reached via narrow lanes around San Vicente do Grove. The beaches face the Ría de Arousa and its hundreds of mussel-cultivating rafts, so are very sheltered: mucking about on pedalos, Lilos and dinghies is a popular activity.
Playa de Barra
Our favourite beach is on the Peninsula de Morrazo, 10 minutes' drive west of Cangas. You head down a long dirt track, then park above the pine woods. The beach is nudist but family-friendly, with bodies of all shapes, sizes and ages on display.
Cíes Islands
These protected, vehicle-free islands at the mouth of the Ría de Vigo are difficult, and pricey, to get to. You need to take a ferry from Vigo, Cangas or Baiona – reservations are wise in peak season – and tickets cost £15.50 return for adults and teenagers, £5 for younger children (see mardeons.com). Moreover, on a sunny day, you will be sharing the two main interconnected islands with thousands of other day-trippers. But don't let any of that deter you.
Rodas, the main beach by the ferry dock, is an astonishingly beautiful long crescent of powdery white sand backing on to a lagoon, with a myriad of shells at the chilly water's edge. If you can tear yourself away, there are lovely paths to follow through pine and eucalyptus woods, up to the top of near-sheer cliffs on the Atlantic-facing side.
Towns and cities
Santiago de Compostela
With its harmonious, golden-grey ensemble of exuberant Baroque cathedral, monumental squares and partially arcaded, pedestrian streets, this is easily Galicia's loveliest city. In the height of summer, a buzzing, party atmosphere pervades the place. Walkers and cyclists who have just completed one of the Camino de Santiago pilgrimage routes pop champagne in the main square, Praza do Obradoiro, and buskers abound – including gaita, or bagpipe, players, the most visible manifestation of Galicia's Celtic roots.
Pontevedra
The extensive and lovely old quarter is far less touristy than Santiago de Compostela's. A maze of streets connects half a dozen pretty squares whose arcaded mansions sport elegant wrought-iron balconies and heraldic coats of arms. There are no must-see sights. Come instead in the evening for a tapas crawl – the best-placed tables are on Praza da Lena. We were there for the annual Peregrina Festival (August 11-19 this year), which briought a knees-up each evening, with folk dancing, roving bands, outdoor pop concerts and a vast fairground.
Baiona
Galicia's most appealing resort is well worth visiting for the day. Walk around the castellated and turreted medieval walls surrounding the wooded peninsula, have a swim off the attractive beaches below the walls, and clamber over a replica in the harbour of the Pinta – the remarkably small ship in which Columbus returned to Baiona in March, 1493 with news of the discovery of America. Then feast in the seafood tapas bars and restaurants in the old town behind the harbour.
A Coruña
Even if, like us, you focus on the Rías Baixas, consider spending a day at the north coast's main city. Although a big, industrial port, A Coruña has a striking setting on a narrow isthmus poking out into the bay, and outstanding seafood eateries on the backstreets off the main square – the Meson do Pulpo (Franja, 9) is a perfect place to get to grips with octopus. Top sight is the Torre de Hercules, near the tip of the peninsula, a handsome stone lighthouse dating from Roman times that you can climb up.
Food and drink
Galicia's seafood, and in particular its shellfish, is regarded as the best in Spain. Whereas in France most shellfish comes on expensive platters, in Galicia it's served as tapas and larger raciones, so you can graze reasonably affordably.
We enjoyed chipirones (baby squid), beberechos (cockles) and navajas (razor clams). We weren't so taken with pulpo a la gallega – boiled octopus, chopped up into bite-sized portions, sprinkled with paprika and olive oil, and served on circular wooden boards. The texture is rather rubbery, but it's one of Galicia's signature dishes, so you must try it once. Percebes – goose barnacles – gathered dangerously off rocks on Galicia's Costa da Morte (Coast of Death), are a more expensive delicacy.
Our favourite edible discovery was, in fact, a product of the land. Pimientos de padron are very moreish small green chilli peppers, fried in olive oil and flavoured with salt – a plate of them makes perfect tapas to nibble over a beer. Most of the peppers are mild, but the occasional one can be hot, which adds a frisson of excitement to eating them. The fruity and crisp albariño white wine from the Rías Baixas area goes very well with shellfish. You can buy bottles direct from vineyards near the pretty little town of Cambados.
Making it happen
Getting there
The Mawer family travelled with Brittany Ferries (0871 244 1400; brittanyferries.com), which has crossings from Portsmouth and Plymouth to Santander: for a family of four travelling in August it costs from £938 return, including a car and the cheapest category of en-suite cabin accommodation.
From Santander to the Galician border at Ribadeo, it's an easy 3½ hours on a dual carriageway that now runs most of the way along the coast. Ribadeo to the Rias Baixas is around another 2½ hours. Consider breaking the journey overnight in A Coruña or Santiago de Compostela, both of which are more rewarding if you stay.
Alternatively, Ryanair (ryanair.com) flies from Stansted to Santiago de Compostela, and Vueling (vueling.com) from Heathrow to Vigo and A Coruña. You could also fly to Porto in northern Portugal – less than two hours' drive from Vigo – with Ryanair from Stansted and Liverpool or easyJet (easyJet.com) or TAP (flytap.com) from Gatwick – though some car rental companies charge extra to take a vehicle across the border into Spain.
Source: www.telegraph.co.uk
Colorful
granite slabs sale
.
Related posts: