Logroño, Spain
7 Reasons Why I Love My City (and 3 Why It Sucks): Logroño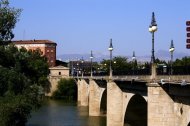 No place is perfect. Sometimes the expat life is portrayed as a fairytale filled with and Spanish sunsets…and while there's lots of that, there are also drawbacks. Writer Liz Carlson tells us how it is living in her adopted city, Logroño.
By Liz Carlson
When I tell people that I live in Logroño, , the most common reaction I get is a head tilt followed up with "Where?" Even Spaniards sometimes don't know where exactly it is. Logroño is a small city and the capital of La Rioja, Spain's main wine producing region in the north. If you have heard of it, it's most likely because you've seen the name stuck on the back of a red bottle.
Even though Logroño doesn't have the name or number of famous sites like other cities in, it is not without its charms. Most people who end up here are surprised by it and end up falling in love with this little city. In fact, Logroño was named one of the best cities to live in in a few years ago, and for good reason. I have lived in several other cities in Spain, and I chose La Rioja on a whim. I came through here on the train in 2007 and I completely fell in love with the fairytale landscape! Now Logroño is my favorite place I have lived in Spain, and here's why.
1. Off the beaten track
I love that Logroño is not well known. It makes me feel like I am discovering new places all the time. Walking around town you rarely run into tourists like you do in the bigger cities. Logroño has a more local, traditional vibe to it. It feels like true Spain, if that makes any sense. Most of the tourists that come through here are hiking the famous Camino de Santiago. Logroño is undiscovered Spain at its finest.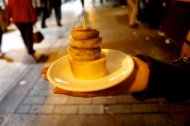 2. Food
Probably my favorite thing about Logroño is the food, though my body protests every time I go to the gym. Logroño is well known in Spain for its pincho scene; pinchos are Northern Spain's take on tapas, the small serving of food on a slice of baguette. There are streets around the city with nothing but pincho that get lively and downright rowdy on the weekends. Whether you want to try a fancy elaborate pincho, like a futuristic foam tortilla, or something simple and hearty like the famous champi, which is three mushrooms grilled and coated with a buttery garlic sauce with shrimp, there is something for everyone.
3. Wine
They have been making wine in the area around Logroño for thousands of years. There are hundreds of wineries around La Rioja to visit and explore, tucked away in the rolling hills and mountains covered with grape vines. Wine is an essential part of life in La Rioja, and you can find it everywhere here. From the elaborate wine festivals to grape Christmas lights, to even wine soap and bath products, you can't escape it. When you walk into a pincho bar here, there is usually a wine list that covers an entire wall that would make even the biggest wine connoisseur take a step back!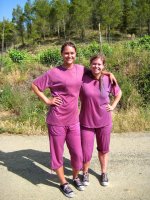 4. Friendly people
Logroño has some of the nicest, friendliest people I have met in Spain. I have lived all around the country in big cities and small villages, in the North and the South, and have visited even more places; but at the end of the day, I've met the most affable and outgoing people right here in Logroño. From the women who sells me cherries at the market across from my apartment to the teachers in my schools, to the bartenders in my favorite pincho, they always greet me with a smile. I frequently have conversations with completely strangers on the street, in a bar, on the bus; you name it, I've met someone there. And Logroño is small enough that you always know somebody who knows somebody. So many times in Spain I feel like people can be chilly or off-putting, but in Logroño, it's the exact opposite. There is a amiable and warm attitude here that I just love and helps keep a smile on my face and always puts me in a good mood.
5. Close to nature
Logroño is a small enough city that it's really close to parks and the mountains. You can literally walk right out of the city and into the vineyards. Even wandering around the city, you can catch glimpses of the snow-capped mountains and rolling fields of grape vines from the tops of buildings and looking down certain streets in the old quarter. It's the best of both worlds.
6. Cheap
Since Logroño is such a small city, the cost of living and visiting here is really cheap. A pincho and a glass of good red wine will usually set you back about €2.50 and you can get a really good meal with several courses for around €15 in a restaurant.
7. Lots of fun events
Like many cities in Spain, Logroño has no shortage of fun events. In the fall to celebrate the wine harvest we have a week-long festival called San Mateo, grape stomping and all! In June, there is another big festival called San Bernabé which celebrates Logroño withstanding a siege by French troops 500 years ago. There are many events around the wine business, and organized wine-tasting fairs every few months. But my favorite is the Batalla del Vino, a wine battle near Haro, where everyone from children to grandparents hike out to the mountains and then proceed to throw wine on each other until everyone is dyed purple.
Dislikes:
8. Not well-connected
Logroño is well-connected in the sense that it is relatively close to many of the major cities in the north, like Bilbao, San Sebastián, Burgos, Pamplona and Zaragoza, but it is not all that easy to get to those places. Logroño has a tiny airport that nobody uses, so I usually have to travel for two to four hours to catch a flight somewhere. The buses aren't all that frequent, and in spite of having a fancy new train station just opened there are almost no trains through here. The best way to get around is by car, which is challenging when you are a poor expat.
9. Small city
The fact that Logroño is a small city is both a positive and a negative. It's negative when I need or want to go to a certain shop, or need to find something in particular. Some of my favorite chain stores aren't in Logroño, but there are plenty of other independent stores that I love. I also run into people on the streets that I know all the time. Most of the time it's great, but then there is the occasional incident when you just want to run the other way.
Source: www.thespainscoop.com
Related posts: