National animal of Spain
First National Animal Welfare Conference leads to closer cooperation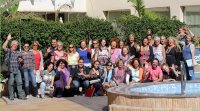 Seventeen guest speakers addressed an audience of representatives from many Animal Welfare Associations at the three day National Animal Welfare Conference, PAES, held in Los Alcázares, Murcia October 16th through 18th.
They had been gathered together by three Associations - Cruz Azul, ACTIN Spain (Animal Care Treatment International Network) and SAS (San Animal Santuario) - for the purpose of finding synergy with others concerned about animal treatment here in Spain.
Lyn Baines, President of Cruz Azul and organiser of the conference, was overwhelmed by the interest not only of the speakers but also the attendees.
"A lot of ex pats show concern for the way animals are treated in Spain, but I was thrilled to see the number of Spanish people who show great empathy" she said Monday. "By Sunday the speakers were calling on me to arrange a strategy meeting where we can discuss working: the lawyer, the veterinary college, the police and our three charities want to move this forward as a cohesive group with a strong voice. I'm so looking forward to having strength in numbers and thank everyone for their enthusiasm and dedication!"
Speakers, and first person to ask for the strategy meeting, was Pedro José Moratalla, heading UPROMA, the first unit of its kind to be set up to ensure all Policia Local are aware of current legislation regarding animal welfare, so they can deal with cases correctly.
Amalia Melendreras Montesinos from the Veterinary College stressed the need to get accurate veterinary reports to ensure prosecution in animal abuse cases. Amalia is responsible for the SIAMU Microchip Database in Murcia ( which links to the Europetnet Microchip Database operated by Dr Michel Schoffeniels, a qualified vet working in Belgium and the founder of Europetnet Microchip Database. Michel explained to the group how the whole system works; see more on the PAES website: www.proteccionanimales.es.
Mandy Marshall from SAS (San Animal Santuario in Aguilas) spoke about the group's experience of Trap-Neuter-Return to keep down cat colonies and poignantly, Jill Sylvester spoke about keeping yourself safe when you are working in animal welfare. It's easy to get involved and put yourself in danger, physical and emotional. Jill explained how to avoid this.
Raquel López Teruel of DeAnimals, a lawyer specialising solely in animal welfare, is one of only three specialists in Spain. Raquel explained the complications of the law process in cases of animal abuse and stressed the essential of doing things right to ensure a prosecution. Raquel has great success with some horrendous cases and wants to encourage more lawyers to specialise and make a difference. Vivienne Wharton, President of ACTIN and joint promoter of the National Animal Welfare Conference, expresses her thanks to Raquel for all the hard work she has done on some very difficult cases this past 12 months. "Without Raquel, her professionalism and her extremely hard work, we would never have got as far we have this year. She helped us secure the rescue of so many dogs; rescues we would not have accomplished without her, and so I cannot thank her enough".
Dr Nuria Querol spoke about Animal Abuse & Interpersonal Violence and fascinated the audience as did Dr Dagmar Mayer of Worldwide Veterinary Service. Did you know that, worldwide, at least 61000 people die of rabies, 24000 of these in India alone. Mission Rabies, a WVS project, managed to vaccinate over 150 000 dogs in India since they started in 2013.. Remember, cats can get rabies too so all the more reason to Trap-Neuter-Return the Spanish street cats.
Antoinette van Toorenenbergen talked about her work in educating children in schools about animal welfare and also the importance of doing TRACES correctly when transporting adopted rescues to homes abroad.
Gerard Baert from Animal Fellows, Holland, explained their work with Zooplus there, who donate their products to animal charities. Gerard is looking at the possibility of setting up a similar operation in Spain.
Barry Caulfield of SCAN (Society for the Care of Animals in Need) in El Verger, Valencia, spoke about the realities of running an animal rescue centre.
Juan Antonio Ferrer Garcia from the Policia Local in Alcantarilla spoke about the role of the Policia Local and animal welfare.
On the practical side of running an Association or Charity, Linda Richardson spoke about the essentials of communicating your cause through News and Social Media as you compete with some 200, 000 charity associations in Spain. Sue Thomason, Vice President Cruz Azul, outlined simple ways to grow your charity and stressed the importance of valuing your volunteers, keeping them committed to the cause. Both agreed "Our Volunteers must always come first" – first with support, first with information and first with news.
Lyn said "I'd also like to thank The Northerners and Barrington Dubois, all animal lovers, who gave their time free of charge to entertain our delegates at the weekend. A big thank you must go to Anne Blandford and her Team Harmony members, who raised 284€ for PAES with their raffle. Thanks also goes to Sue Thomason and Janis Johnstone for working tirelessly over the weekend."
We hope everyone reading this will have an interest in keeping up with National Animal Welfare – PAES – here in Spain and to do that check out our website regularly: and follow us on Facebook.
Source: www.proteccionanimales.es
Related posts: