Spanish Cities
The Most Romantic Neighbourhoods of 6 Spanish Cities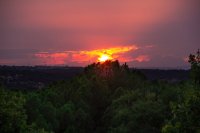 Spain is magical on its own and if you've never been to Barcelona, Madrid, Valencia or any of the smaller cities, you are missing out. Not only does Spain have some of the friendliest people you'll meet – it also has the relaxed and romantic atmosphere as you walk through the centuries-old streets. We've asked the locals of Barcelona, Madrid, Valencia, Granada, Sevilla and Bilbao to share their favorite romantic neighbourhood and place of the city. And they had a lot to say!
Madrid – Opera & Arguelles
Of course, we can't start with anything other than Madrid. Although the city is very hipster, one of the most romantic places you will ever find lies in the city centre, in a neighbourhood called Opera. Just a step away from the Royal Palace of Madrid lies the Jardines de Sabatini – mazes, fountains, sandy pathways and romantic benches overlooking the majestic palace. And if that's not enough, head over to Templo de Debod and wait until the sunset – just trust us on this one.
Valencia – La Ciutat Vella
Valencia's old city has a lot to offer – with thousands of years worth of history and charming spots you will find as you go for a stroll, the old city is one of the most romantic spots to take your loved one on a date.
Granada – Barrio del Albayzin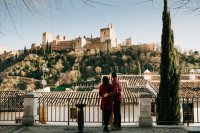 Barrio del Albayzin has beautiful streest and romantic corners. One of our favourites is Mirador de los Carvajales. It's hidden and not too easy to access – if you don't know the area beforehand. But when you finally make it, you can get magnificent views of the Alhambra and the Alhambra and the Generalife – especially at sunset. You can even see groups of people playing guitar and singing. On the way to this viewpoint you pass through Calle Del Beso (the street of the kiss) – quite romantic, isn't it?
Sevilla – Puente de Triana
Puente de Triana is a very well-known romantic spot. From Puente de Triana the most romantic places/monuments can be found – Torre del Oro, Bullring Maestranza, and the famous Calle Betis. All these spectacular views are guarded by the Cathedral, Giralda and Plaza de España towers.
Bilbao – The riverside walk in "Abandoibarra"
Walking next to a river in the middle of a city always offers an open view. In this environment it seems that time goes slower and couples enjoy their time without the traffic hassle.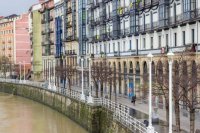 During the walk, you will come across with surprises such as the Guggenheim museum with the famous Puppy, and Calatrava Zubizuri Bridge.
Barcelona – El Raval
El Raval has lots of hidden places of the old Barcelona. Casual, mixed with lovely shops, bars and restaurants and a fantastic historical atmosphere as you walk around the neighbourhood – a perfect spot to spend your Valentine's Day! If you're an animal lover, stop by the Xuclà street – you can find cute graffiti cats practically everywhere! Don't forget to enjoy the Barcelona sunshine on the terrace in the middle of the square.
cnn international
is christmas eve a bank holiday
how to run a holiday letting business
next christmas pyjamas
hermes international tracking
department of international trade
garden society
outdoor corner sofa set
how to build a successful business
gavin and stacey christmas special
how did bill gates start his business
outdoor voices
mens stylish suits
ipswich building society for intermediaries
edinburgh worldwide share price lse
what to put on business cards
how to build business credit
white christmas weather forecast
france international team
last christmas 2022
what type of business should i start
last christmas cast
most stylish men
stylish blouses
coworking charlotte
coventry building society careers
international drive hotels
how to receive payment on facebook business page
how to right a business plan
who killed cassandra in the society
how much is business class to australia
worldwide trends
outdoor mat
christmas tree emoji
coworking desks
outdoor xmas decorations
a christmas story
alzheimer society
yu gi-oh worldwide edition
animal crossing pocket camp communication error
what is the best accounting software for a small business
communication services
stylish men's workout clothes
christmas cake recipe
what is an ecommerce business
Source: www.spotahome.com
Related posts: