Ronda city Spain
The 12 things you must see when visiting Ronda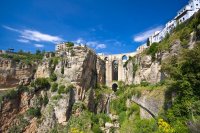 Ronda sits in the heart of the Serrania de Ronda, about 100kms from the city of Malaga and with a population of approximately 35, 000 inhabitants.
Surrounded by lush river valleys and sitting above a deep ravine, it is a place that literally takes your breath away when seeing it.
Anyone who has been lucky enough to visit Ronda will understand its appeal. It is one of the most beautiful and visited cities in Spain (the third most visited city in Andalucia).
Video about Ronda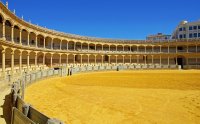 Ronda (Acinipo) was first declared a city by Julius Caesar in the late 4C AD. When the Moorish troops under the command of Tarik-ibn-Zeyad invaded the region in 8C, one of the first routes they followed was the old Roman one, linking Gibraltar with the Roman settlement of Acinipo.
They renamed the town to Izna-Rand-Onda - Ronda. The ruins of Acinipo actually sit 20Km outside of modern-day Ronda.
Here are 12 must-sees for your trip to Ronda.
Puente Nuevo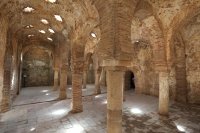 Offering unforgettable views over the El Tajo gorge. The Puente Nuevo – new bridge – was actually completed in 1793 and took forty two years to build. The bridge joins the old Moorish town and the newer, El Mercadillo parts of the city. It is, by far in a way, Ronda's most famous landmark.
One of Spain's most famous Parador hotels sits adjacent to the bridge and is a well worth a visit. The views of the El Tajo gorge are unforgettable.
If you have the time, walk down into the gorge along the Camino de los Molinos. The views are the best to be had. In Spring the whole valley floor is awash with flowers.
Plaza de Toros - The Bullring
Ronda is said to be the home of modern day bullfighting. The Real Maestranza bullring is one of the oldest and most picturesque in Spain. It was built in 1785 by the architect Jose Martin Aldehuela - the same architect who built the Puente Nuevo. The ring can hold up to 5000 spectators.
Francisco Romero, born in Ronda in 1695, is credited with giving bullfighting its modern day rules with the introduction of the cape and the muleta. His grandson, Pedro Romero (1754-1839) became one of Spain's greatest bullfighters. He founded the Ronda School for Bullfighting, it is still known today for its classicism and strict adherence to the rules. There's a museum and guided audio tours around the bullfighting ring.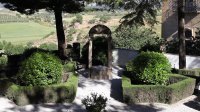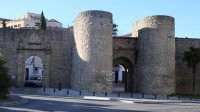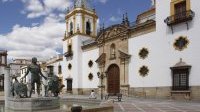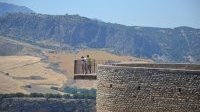 Source: www.spain-holiday.com
Related posts: