Cadiz, Spain
Cadiz — off the beaten track in Spain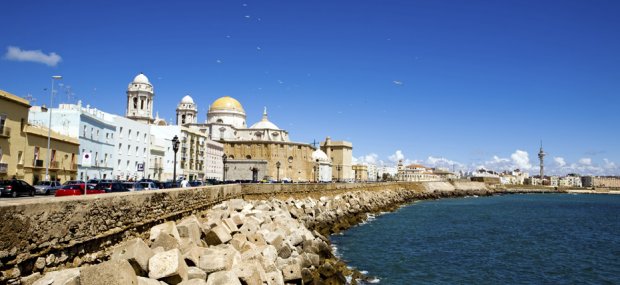 If you're headed off for vacation. Some of the best vacation spots are located a bit off the main tourist route. The ancient city of Cadiz in southern Spain is one such hidden jewel.
Travellers to Spain head mainly for popular destinations like Barcelona, Seville, Cordoba and Grenada. These are all wonderful places but Cadiz is outstanding when it comes to getting a flavour of regular, daily life of Spain. The tourists in this city are almost all Spanish.
I made a ten-day trip to Spain with my family to four cities: Cadiz, Cordoba, Grenada and Seville.
Landing in
Our choice of going to Cadiz was almost incidental. Ryan Air, a British airline that specializes in low cost, no-frills flights to Europe, had cheap fares from London to Jerez, a city that is located 40km from Cadiz.
The plane took off from the Stanstead airport that is located 60 kilometres from central London and it costs GBP 65 by taxi to get there. A short two-and-a-half hour flight brought us to the quiet and lush green airport of Jerez.
It was a clear blue day and there was an immediate sense of peace in the air as we dragged our carry-ons, in the old fashioned way, from the tarmac to the single window immigration centre.
Bus, rail and taxi options are available to travel to Cadiz from Jerez airport. We took a taxi and after a 40-minute ride, reached the small apartment in the heart of old Cadiz that we had booked online. The two bedrooms furnished and air-conditioned apartment cost us about 90 Euros per night.
Where past lives with present
The city was founded in 1104 BCE and is one of the longest continuously inhabited city in Europe. During the Muslim rule (711-1262) the city was called Qadis.
The city of Cadiz consists of a small modern part and a large old section. The city is dotted with well-maintained old historical buildings. Every place of interest is a walking distance if you live in the old part of town. Well-maintained buildings line the narrow lanes that connect to a piazza (square) where there are always a few restaurants that have outdoor seating, children running about and old people just sitting and watching the scene, looking quite contented with life.
I was left wondering that the walled city in Lahore could have looked like Cadiz if we had the vision and wisdom to maintain it.
Walking around in Cadiz, there is never an impression that the city is divided into rich and poor parts. You can stroll around the whole city and find the same beautiful old building everywhere. There is excellent public transport while scooters and motorcycles are the most popular means of private transport. The city is sparkling clean and very green.
As if all these blessings were not enough, Cadiz also has a beautiful beach to boot. For me, fresh from the hijab-clad Pakistan, the change was quite drastic and, I daresay, pleasant. Be warned though that the water is rather cold.
It was a great relief not to find too many consumer type shops. There were only two streets with stores selling higher end apparels like the Spanish brands Zara and Blanco.
This was in contrast to a city like Seville that we visited later.
Great people, great food
While we were in Cadiz my wife experienced severe toothache. Thinking it was an infection we walked into a pharmacy and asked for an antibiotic. We explained our problem is a mixture of English and broken Spanish. It transpired that we would need a prescription to buy antibiotics. The very helpful pharmacist pointed us out to a nearby dental clinic.
After some searching we managed to find the place and went in. The receptionist was very friendly and within two minutes a dental assistant saw my wife. He was a very friendly young man who gave us a very good summary of the history of Cadiz. He was very proud of the fact that Cadiz was the only city in Spain that Napoleon could not capture!
After the preliminaries, the dentist (a young woman), saw my wife and prescribed some medicines. She couldn't speak English but was very patient in listening to my wife's problem. When we went back to the reception and asked for the bill we were told that first consultations are free! We had told them that we were tourists, and yet we got free service. That was an incident that truly endeared us to Spain.
There is an intimate family feel to Cadiz. Once, we were sitting in a piazza a family with members from three generations came along pushing a wheel chair in which an elderly man was seated. Someone shouted, "Hey, Pedro is here!"
Suddenly there was uproar in the piazza. Other older men came rushing out of restaurants and stores to greet Pedro and enquire after his well-being. Soon the wheel chair was completely surrounded by Pedro's friends while Pedro introduced his grandchildren.
No account of Cadiz can be complete without the mention of the wonderful food that we ate there. The tapas (small appetisers or snacks) provide an opportunity to sample a wide variety of Spanish cuisine. And if you are a seafood lover, Cadiz will be paradise for you; all varieties of seafood are as fresh as they get and cooked to perfection in olive oil and some flavourful herbs.
However, a word of warning for the visitors from Pakistan: desi food is completely absent in the eateries of Cadiz. So pack up a few cans of qormas and biryanis if you are prone to desi food blues. Also, Spain is a coffee country and one with excellent brews, but good regular tea is difficult to come by; so take some teabags to see you through the mornings.
Even though we had little Spanish between us, we found the local shopkeepers most patient and understanding. However, it is a good idea to keep a Spanish-English phrase book when you are in Cadiz.
In Cadiz, the sky is blue as is the sea; the air is clean and fragrant — thanks to the myriad trees and flowers that line the roads, and there is a refreshing absence of consumerism. Life treads gently and calmly here.
The best part about being in Cadiz was the sense that this place is old world that has seen all the vicissitudes of history and where nothing changes anymore. This sense of change leading to permanence seems to imbue the city dwellers and visitors with a deep sense of inner peace.
communication manager birmingham
nationwide building society jobs
christmas colouring
coventry building society fixed rate bonds
how to write a business plan
what to post on facebook business page
outdoor rabbit enclosure
worldwide baggage
national geographical society
coworking management software
ll stylish op gg
christmas onesie
international space station viewing times uk 2022
coworking spaces are betting
outdoor karting
coworking stratford
when will australia open borders for international travel
social and communication disorder
christmas dinner ideas
how to close a lloyds business account
international space station viewing times uk 2022
international cricket
replacement cushions for outdoor furniture
cadburys worldwide easter egg hunt
soho restaurants with outdoor seating
chartered society of physiotherapy
who works in coworking spaces
outdoor play
coworking virtual office
newcastle international airport
Source: www.dawn.com
Related posts: