Foods in Spain
Common Foods in Spain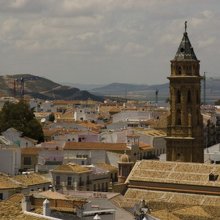 (Photo: Antequera, Spain image by Peter Jarvis from Fotolia.com )
Related Articles
It is hard to overlook the gastronomical variety of Spain. There are many regional specialties throughout the country, but there are a number of foods that most Spaniards prepare. If you are in Spain, make sure to try these tasty dishes.
Paella
Originating in Valencia, paella is a rice dish prepared with seafood. Of all the foods in Spain, this is the most popular. In this dish, savory yellow rice is combined with tomatoes, onions, peas, shellfish, squid, clams and chicken drumsticks. These ingredients are cooked in a large saucepan over an open fire with olive oil and salt.
Gazpacho
Gazpacho originated in the southern region of Andalusia, and it is very popular in the warmer summer months. This cold tomato soup can be served in a bowl or in a glass. Ingredients include tomatoes, onions, garlic, bell peppers, oil and vinegar.
Spanish Omelet
The Spanish omelet, or tortilla española, is one of the most common dishes in this country. It is very simple to prepare, and most tapas bars and cafés serve variations on the classic recipe. This dish is made from potatoes, eggs and chopped onions and fried in a pan with oil and salt.
Jamon Serrano
Large slabs of cured pork can be found hanging from the ceilings of bars, restaurants and bodegas all over Spain. They are hung from the rafters to dry, giving off a delicious aroma of ham and spices. Traditionally, jamon Serrano is cut and served in thin slices with a baguette or a slice of toast.
Turrón
This dessert is most commonly found in the northeastern Catalan region. It is a nougat confection made from sugar, honey and egg whites. Almonds are often chopped and added to the mixture. Spaniards often enjoy this treat around Christmas time.
Source: traveltips.usatoday.com
Related posts: