Merida, Spain
Mérida (Spain)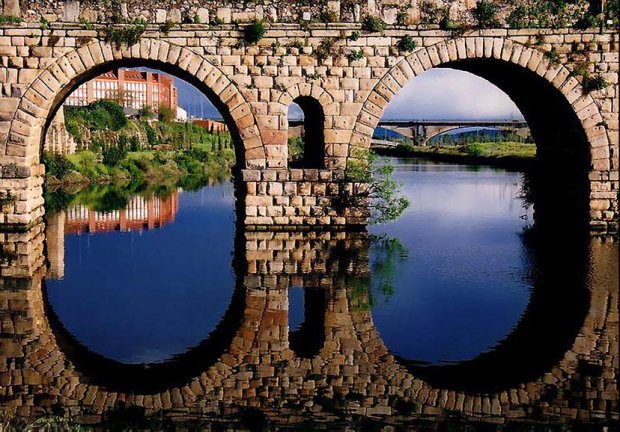 MeridaIs the capital of the Extremadura region in Spain. Founded in 25 BC, Mérida was once the capital of the Roman province of Lusitania. The city still contains numerous well preserved Roman ruins, the group of which were declared a UNESCO World Heritage site in 1993.
By train: The RENFE station in Merida is located on Calle Cardero. There are four trains to and from Cáceres (trip time: 1 hr.), five trains to and from Madrid (4.5-6 hours, 18.45-27 Euros one-way), one to and from Seville (3 hr.), and seven to and from Badajoz (1 hr.)
By bus: The station is on Avenida de la Libertad near the train station. There are fewer buses to Madrid, but connections to Seville (6-8 buses per day) are much better.
Car: The N-V superhighway passes through Merida from Madrid or Lisbon.
Roman ruins

[edit]

Roman ruins in Merida are a mixture of ticketed and free sites. At the ticket booth of any site that requires paid entry, you can purchase a combined ticket for all sites. The price is €12 and the ticket does not expire. You will also be given a map to the sites (both free and paid) around the city. Ticket sales are cash only.
. The star attraction of the Roman sites in Merida. The theater (used for plays) and amphitheater (used for gladiator fights and spectacles) are situated next to each other and both are excellently preserved. During the summer the theater is still used for flamenco and other shows. Ticket required.
. Ruins of a large temple dedicated to the Roman empire, dating from the founding of the city. Parts of the structure were later reused in the Moorish period and after. Temple is in the city center. Roped off from pedestrians but no ticket is required for viewing.
Source: wikitravel.org
Related posts: