Lloret de Mar Spain
Lloret De Mar travel information and video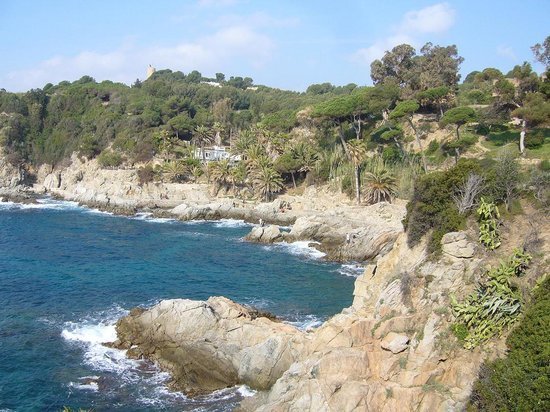 Lloret de Mar is situated in the southern part of the Costa Brava, 70 kilometres to the north east of Barcelona. This is one of the Mediterraneans most popular resorts and certainly the liveliest holiday spot on this stretch of the Spanish coastline. The former fisherman's village covers 48 square kilometres, and has five main beaches along a 7 kilometre of coastline.
The city of Barcelona and its airport El Prat can also be reached by train, with connections going further beyond. The local airport is at Girona, which is just 35 motoring minutes away.
History


The history of Lloret goes back to the third century BC. Some archaeological remains still exist.
Beaches


The beaches of Lloret are extremely well kept and washed by crystal clear waters. There are many areas of great interest to divers off the rocky headlands. The main beach has a delightful promenade with scenic views and many excellent bars and restaurants. There is the facility to hire small pleasure craft and enjoy all manner of water sports.
Playa Treumal: This beach has the Blue Flag award due to the quality of the sand and the good condition of its natural environment. The type of sand is golden and thick in texture.
Santa Cristina Playa: A well equipped sandy beach, boasting very clean waters where you can practice diving. The type of sand is golden and thick in texture.
Boadellla Beach: Sandy beach surrounded by rocks and vegetation where naturists roam free. Definitely not one for the prudish!
Fenals Beach: A fully equipped, popular beach; lots of fun especially during the summer, where you can try your hand at the many sports available.
Canyelles Beach: A blue flag beach with a small port and a yacht club.
Cala Banys: A rocky bay where fishing is enjoyed, and where a beautiful walk through a rocky environment is afforded.
Playa de Lloret de Mar: Large urban beach that has all kinds of facilities and infrastructure, and in its vicinity there is a wealth of entertainment, restaurants shops and bars.
Playa Sa Caleta: Small sandy beach protected by rocks on which stands a medieval castle.
Cala Trons: A rocky cove with magnificent hillside views. A place to swim, snorkel and fish.
Tortuga Beach: A hard to reach, secluded rocky beach, which lacks any kind of services and as such heaven for the few.
Leisure & Recreation


Lloret has excellent tourist infrastructure, with sports facilities, shopping, leisure and restaurants available for tourists. The safe, sandy beaches, which bask in warm temperatures during the summer months, pull in beach lovers, plus Europe's biggest water park, an aquatic zoo and the Universal Studios Port Aventura theme park are all within easy reach.
There are some excellent walking routes both along the coast and inland which are also popular with mountain-bikers and runners. Horse riding and tennis are also available locally.
Excursions
Within a radius of less than 100 Km you have Barcelona, Girona, Figueres (with its Dalí museum) and Montserrat.
Golf
Lloret de Mar is a wonderful place to enjoy a round of golf, with it's mild temperatures and ample sunshine.
The two local courses in Lloret de Mar and Santa Cristina D'Aro offer excellent facilities. Each course has 18 challenging holes in prime condition. Also available are club hire and high-end clubhouse amenities. Both clubs offer a warm welcome to the visitor.
Cuisine
The gastronomy of Catalonia is rich and varied. Principally it is the typical Mediterranean diet of fish and seafood with fresh vegetables, olives and olive oil rice and pasta. A typical and delicious speciality from nearby L'Escala are the delicious anchovies.
We recommend that visitors try some traditional Catalan dishes whilst on holiday, especially delicious is
Escudella I Carn D'olla, a vegetable broth with pork, veal and chicken. Pa Amb Tomàquet, 

simply rustic bread, can be toasted, rubbed with tomato pulp and dressed with oil and salt; these delcious breakfast can also be served with ham, sausage or tortilla.
Coca is a very thin dough baked with onions, peppers and other vegetables served with and meats, or fish (especially sardines).
Climate
Lloret del Mar enjoys long warm summers. Even on the hottest days there is usually a light sea breeze in the afternoon to cool you down. For the rest of the year, champagne weather presides over spring and autumn with mild, fairly wet winters.
Source: www.spain-holiday.com
Related posts: