Barcelona, Spain
Gartner Symposium/ITxpo 2017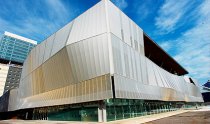 Venue
Gartner Symposium/ITxpo 2017 will take place 5 - 9 November 2017, at the CCIB (Centre Convencions Internacional Barcelona).
A full day of industry-specific insights kicks off on Sunday, November 5, at 11 a.m, with additional industry content throughout the week. Please plan your travel arrangements accordingly.
CCIB (Centre Convencions Internacional Barcelona)
Rambla Prim, 1-17
Barcelona, Spain - 08019
Accommodations
HOTEL RESERVATIONS:
Executive Programs attendees have a priority booking window that begins on Thursday, 24 May at 12:00 p.m. noon GMT.
General Attendee reservations will open Wednesday 31 May at 12:00 p.m. noon GMT.
Please note you must be registered for the event in order to book a hotel reservation.
To make a hotel reservation, please log back into your registration profile in your gartner.com account by CLICKING HERE.
From your account you will be able to enter your desired check-in/out dates and choose from a list of available hotels. Please note, hotel rooms are assigned within our real-time inventory system and are first-come, first-served, based on availability. All reservations must be made with Gartner and cannot be booked directly with the affiliated hotels. For more detailed instructions on how to make a reservation please visit our Booking Guide.
**Please note that the hotel reservations will not be available in the registration system until the above opening dates. **
Hotel Cancellation Policy
Hotel cancellations and/or shortenings of stay made online or in writing up until will not incur penalty fees. After this date any amendment to your booking including cancellation will be charged in full.
By making your hotel reservation through Gartner EMEA Events Registration you expressly agree that after close of business (5pm GMT) on, your credit card will be charged for the full reservation with no refund in the event of cancellation or partial reduction of stay.
From Thursday 19 October after 5pm GMT, all hotels will charge the total fee for your full reservation and therefore, any cancellation made after this date, will NOT receive a refund. If you cancel your registration for Gartner Symposium/ITxpo 2017 your hotel reservation will automatically be cancelled and subject to the cancellation policies stated above.
Failure to check-in on your scheduled arrival date will result in the cancellation of your entire reservation and will be subject to the cancellation penalty.
For more information, please reference our Symposium/ITxpo Hotels.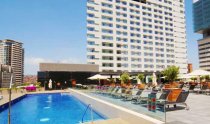 Hilton Diagonal Mar
Passeig Del Taulat 262-264
Barcelona, Spain
08019
Agua Restaurant
Paseo Marítimo
de la Barceloneta, 30
Barcelona, Spain
08003
Accommodations & Privacy Advisory
Gartner has been made aware that service providers, such as Exhibition Housing Management, have contacted a number of individuals who are attending our conference to offer hotel reservation services and/or sell copies of the confidential attendee list.
Please note that Gartner has NOT authorized them, or anyone else, to contact attendees on our behalf, nor does Gartner share/sell attendee contact information to anyone.
on how to protect yourself from scamming attempts.
TRAVEL INFORMATION
Parking and Local Transportation
We offer complimentary shuttles to/from the official Gartner Symposium/ITxpo hotels. Shuttles will run every 20-30 minutes throughout the event hours. On the evening of the Country Receptions shuttles will return to the hotels on each of the bus routes.
Airport Transfers:
Airport Shuttles will depart from the CCIB on Thursday 9 November between 12:00 – 14:00 every 30 minutes. Attendees must purchase a ticket from the Local Information Desk on P0 before travelling; take advantage of the early bird rate of €10 if you purchase your ticket before Wednesday 8 November at 12:00. The cost after this time for the Airport Shuttle is €13.
Source: www.gartner.com
Best car rental service in Georgia, Tbilisi. All car types. Go to
gsscarrental.com
for details
Related posts: