Estepona, Spain
Estepona travel information and video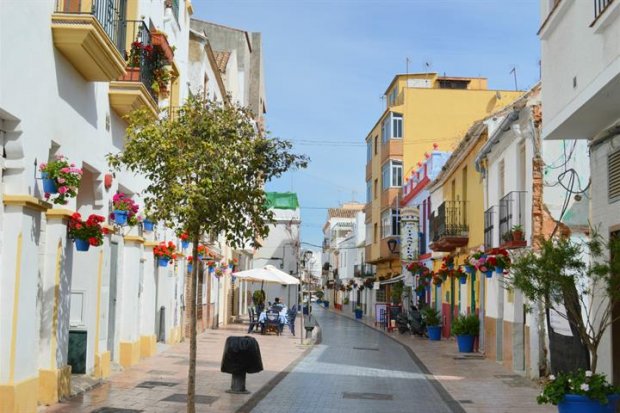 Estepona is one of the most popular destinations for both tourists and foreign residents alike on the Costa del Sol, yet even today it still manages to retain it's old Andalusian charm. Located at the western end of the Costa del Sol at the foot of the Sierra Bermeja mountains.
Estepona's cobbled narrow streets, fishing port, Spanish cafes and bars spilling out higgledy piggledy on the pavements, and the quaint shops and bodegas, all combine with the modern Puerto Deportivo (leisure port) and marina, the tourist facilities and golden sandy beaches, to make this a comfortable and interesting place to stay for holidaymakers.
For many years Estepona's main economic industries were fishing, agriculture and cattle, and even today, remain an important income for many in the area. Nevertheless for over a decade now tourism has become an important economic factor, due to the town's redevelopment, wonderful climate, well kept sandy beaches, such as La Rada and Cristo Beach, and an extraordinary touristic offer, which incorporates golf, a pleasure craft harbour, excellent dining options, and of course the development of urbanisations, apartments and villa complexes, which all in all makes Estepona the chosen city for thousands of tourists every year.
Estepona is located closer to Gibraltar airport, whose destinations are starting to open up now. There are a several flights from the UK and EasyJet fly into Gibraltar. However, Malaga is just 50 minutes to one hour's drive away.
History
There are conflicting records that pinpoint the roman fishing and agricultural settlements of Salduba and Silniana to this area west of Marbella, however, it seems more likely that at least Silniana was positioned where today we have San Pedro de Alcántara. As it was destroyed by a seakquake in the 4 century AD and despite its obvious age, there are no real records that prove either way.
The name Estepona more likely derives from its Moorish occupation, when it was named Astabbuna. Like most of the Iberian Penisula, Estepona was fought over by the Moors and Christians and reoccupied by Enrique IV Castile in 1457 who ordered a church to be built over the old Mosque, and it's this church that became the centre of the community that we would finally know as Estepona.
In 1729 the king gave Estepona its own charter and from there it began to grow its own identity, away from Marbella and develop its industrious nature.
Note
Start boosters are intended for starting up a motor when the car battery is discharged. They are multifunctional devices that every driver must have. The device is light and compact. Many boosters have USB connectors, allowing you to charge smartphones and tablets - and pretty quickly. The built-in flashlight is also a useful feature, especially if it has an emergency flashing mode. Booster should be selected basing on the engine volume of your car. To start the engine, you just need to connect this booster batterie with the correct polarity, wait a few seconds and start the engine.
Source: www.spain-holiday.com
Related posts: