Pals, Spain
Pals travel information and video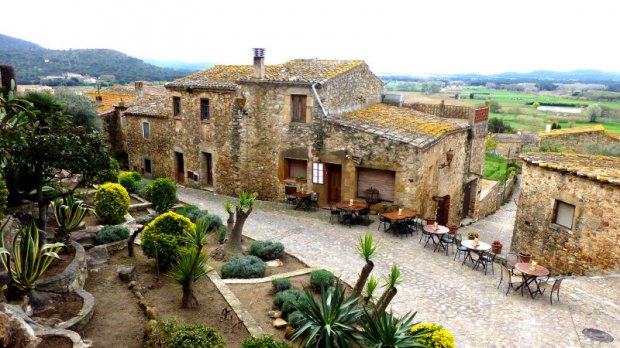 The medieval town of Pals is located on the Costa Brava, to the east of the city of Girona. 
Situated on top of a hill, overlooking Platja de Pals, this charming town with its cobbled streets, craft shops, traditional restaurants and bars is a great place to visit in Catalonia.
The airport just to the south west of Girona is approximately 45 minutes drive.
Playa de Pals is situated within a crescent shaped four kilometre bay; it isn't so much a resort as a collection of elegant hotels and residences, with a beautiful white sandy beach surrounded by pine trees.
Beaches
Playa de Pals is surrounded by rocky headlands, rice fields and a small lake. Moving further south past some intimate coves are the small up market resorts and beaches of Tamariu and Llafranc.
Playa L'Illa Roja is more secluded and Pals beach itself is in a conservation area so no noisy water sports, strictly snorkelling, pedalos and scuba diving are permitted here.
Eating out
Playa de Pals beach has ample cafes, bars and beachside restaurants; alternatively travel to nearby Begur, or the old town of Pals for an even greater selection of eating places where you can enjoy both international and local cuisine.
Excursions
Pals central location in the Costa Brava makes it ideal for exploring many of the surrounding attractions Begur, Torroella and Palafrugell, and the medieval town of Peratallada, are all close by.
Take the train from the station at nearby Flaçà and you can soon be in the centre of one of the most exciting cities in Europe, Barcelona. Amongst the many attractions of this city you will find Gaudi's impressive Sagrada Familia and Barcelona Zoo and Aquarium as well as an impressive selection of shops.
The town of Figueres, was birthplace of Salvador Dali and is home to his incredible museum. Figueres can easily be reached by car.
Other towns of interest include the old market town of La Bisbal famous for its ceramics, the ancient remains at Empuries, the botantical gardens at Cap Roig, the monastery at Montserrat, the lovely Gothic old centre of Girona and old harbour town of Saint Feliu with its medieval monastery.
Source: www.spain-holiday.com
We provide services in all 50 states, apostille birth certificate. Apostille services.
Related posts: