Pamplona, Spain
Journeys Blog. Connecting the world through travel.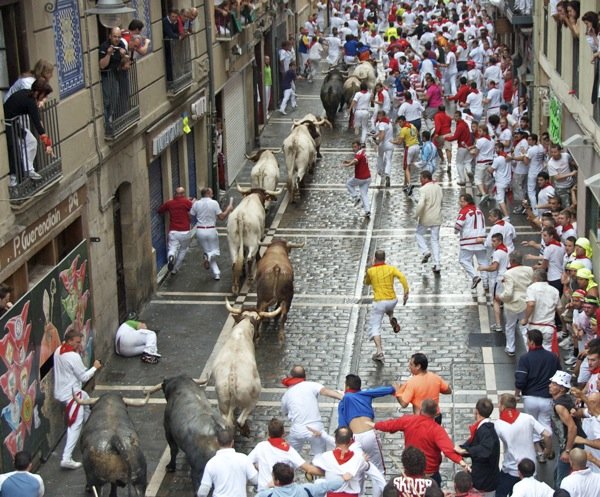 Mention Pamplona and people think bulls –and Hemingway. But the Pamplona we come to know in a few hours is so much more.
We arrived on a Saturday around noon and left the bus near the beautiful ayuntamiento, the 17th century Town Hall of Pamplona. From there we strolled to the Plaza del Castillo, the heart of the old town. This huge square, once the site of a 14th century castle, today is encircled by benches, bike racks, and carefully pruned trees –some of the 144, 000 of 75 varieties that beautify the provincial capital of Navarra. Beyond them are countless terrazas for having a coffee, a drink and a pintxo, or a relaxing meal al aire libre.
The Old Town is a pedestrian zone and on a Saturday it is alive with pamploneses. People much like ourselves strolling with family or friends, young couples with children in tow, older folks, teenagers in packs–everyone's out. It's the mid-day txikiteo –leisurely hopping from one bar to another for pintxos and socializing. Elsewhere in Spain, it's a tapas crawl, but in this part of the country, you go for pintxos.
Pintxos and tapas are similar in purpose: to have a bite or two of something really tasty, in the company of people you enjoy –then move on as a group to another favorite spot. While tapas may include morsels mounted on small toasts, in pintxo-land this is the norm. Typically, the ingredients are secured with a toothpick (pintxo = 'spike'). The combinations are endless: chunks of fresh flash-fried hake or cod, a spicy bacalao spread, perhaps sautéed fresh mushrooms fragrant with garlic and herbs, feather-light croquetas, a mound of delicately seasoned crab or shrimp salad, sizzling little peppers stuffed with melted cheese, air cured serrano ham—whatever the chef features on the ever-changing chalkboard menu. The bars we pass beckon with tempting aromas and a colorful array that stretches across the counter–so much to savor!
We can't stop yet, because we are headed for the route of the encierro. Each year, for a week in July, there are daily bullfights celebrating the Feast of Saint Fermín, patron of Pamplona. Each day, six fighting bulls run a half-mile course from their pens to the bullring with young men dashing ahead of them. Our Tour Manager had run with the bulls many times, so we were privileged to a first-hand account of this dangerous tradition. We saw the small statue of Saint Fermín in a niche near the starting line, where runners chant three times to honor him before the run. We passed the sharp turn where double barriers are erected to protect the crowds from bulls who veer wide. The streets would be jammed for the event. The reality of the encierro suddenly becomes palpable, incomprehensible.
We hear singing down the way, and as we draw near, we encounter the first of several groups gathered for a song fest. Music –especially song—is a vital part of Basque and Navarrese culture. Men often sing together in bars and gastronomic clubs. Choral groups regularly sing in the plazas or in front of churches. But nothing prepares us for the sheer spontaneity of these people, young and old, wandering up and joining in. Some use worn song books; most do not need them. On the edge of one gathering, a young school girl is selling booklets under her mother's close supervision. I buy one from the earnest little vendor, and the songs are in Euskera, the Basque language –forbidden a few decades ago, during the Franco regime. Today in Pamplona, it is sung loudly and proudly.
Source: www.smithsonianjourneys.org
Granite countertops knoxville tennessee
granite countertops turkey creek
.
https://letsketo-capsules.com
Let s KETO buy in UK how and where to buy let KETO.
Related posts: