Sierra Nevada, Spain
Our South of Spain Roadtrip: Sierra Nevada, Frigiliana and Cabo De Gata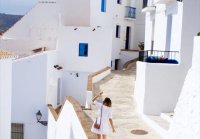 If you're busy making travel plans for the year to come, can I suggest you plan a south Spain roadtrip to Sierra Navada, Frigiliana and Cabo De Gata?
I'm sure, much like mine, your list overfloweth, but in the event you have time a road trip around the south of Spain is worth it. Many of you will know that last year in October I was lucky enough to spend 2 weeks in the south of Spain, visiting the main cities of Cordoba, Granada and Seville, as well as visiting a few hidden gems that aren't so much on the tourist trail. I've already published a guide to Granada (see here) and will be sharing city guides for Cordoba and Sevilla in the next few weeks. In the meantime I wanted to share with you the other section of the road trip, which was all about discovering lesser known places in the region. In this guide I'll talk about 3 places – Frigiliana & Nerja, The Sierra Nevada Mountains and the national park of Cabo De Gata.
Our South of Spain Roadtrip Route
Before I deep dive into the three places I will cover in this post, I wanted to give you a quick overview of the whole trip. Although my flight landed in Malaga, we hired a car straight away and drove off so I didn't include it. We headed straight along the coast to Nerja (and into the hills to check out Frigiliana) and then the following day we went to the Sierra Nevada mountains for 3 days. Ben and I then went down to the national park of Cabo De Gata for 2 days, and then continued around the top to Granada where we stopped for 3 days. After that we did Cordoba for 3 days and then Seville for 3 days before heading south to fly out of Malaga again. In total it was around a two week trip, which I think is what you need for this region (although you could do it in less).
We never visited the south of Spain when we lived in London, I think we had in mind huge resorts filled with tourists, all competing to get to the sun loungers in the morning… My mum suggested this trip, and needless to say it wasn't like this whatsoever (at least in the areas we visited), it was stunning, delicious, diverse and surprising. All at once. Read on for three lesser known/ hidden gems places you have to visit when you go.
Hidden Gem 1: Nerja (& Frigiliana)
You guys! Always so helpful. Before I left my mum gave me the task of finding somewhere for us to stop after our flight (we decided to skip Malaga/most of the Costa del Sol because it seemed a little built up) and you guys suggested Nerja and Frigiliana. A quick scan on pinterest had me like 'whoa' and 'yep'. Nerja is a lovely town on the coast, whilst Frigiliana is a white village in the hills. South of Spain is well known for its picturesque white villages, and Frigiliana has to be the most lovely one we visited. We stayed the night in Nerja, but went up to Frigliana for lunch – we found this place on a terrance overlooking the whole valley. We also got rid of jet lag by swimming and having coffee at a few of the beaches along the coast – so many gorgeous ones and it pays to take a little time.
Stay: At this tiny hotel.
Eat: Up in the hills at this restaurant.
See & Do: Wander the cobbled streets of Frigiliana, visit the beaches of Playa de Maro and Cala del Cañeulo (our faves!), visit Nerja's donkey sanctuary and check out Nerja's Sunday/Tuesday markets.
Hidden Gem 2: The Sierra Nevada
The second hidden spot on our South Spain Roadtrip was the Sierra Nevada. Visiting the mountains of the Sierra Nevada was, in fact, the whole purpose for this trip, you'll remember my mum wanted us to hike the hills there. I had never heard of the region before and was so surprised at how stunning it was. Known for its white villages called 'The Alpujarras', the mountains are home to stunning scenery, olive groves, shepherds and huge flocks of sheep and all in all a wonderfully rural and simple way of life. And virtually no phone service! I read the book Driving Over Lemons before I went which gave a really comical/sweet take on the place. Basically the Sierra Nevada are mountains with a National Park, and tiny little towns in the hills surrounding the park. It's a deceptively long drive to all the towns (we only saw a section) and the scenery changes dramatically between the different valleys.
Stay We stayed at Hotel Estrella in the lowest of the three famous villages – Pampaniera. I loved this village so much and think it's a great place to base yourself.
Eat & Drink Chances are you'll be driving all over the mountains – hiking and visiting towns and will naturally get hungry. My favourite place was El Rincon in Yegen – one of those cosy Spanish homestyle restuarants you could pull up a chair and drink Rioja all day. If you like ham you'll also have to visit the town of Trevelez – home of amazing Spanish ham, again best enjoyed with copious Rioja.
Source: apairandasparediy.com
Related posts: